Estado Vegetal
Estado Vegetal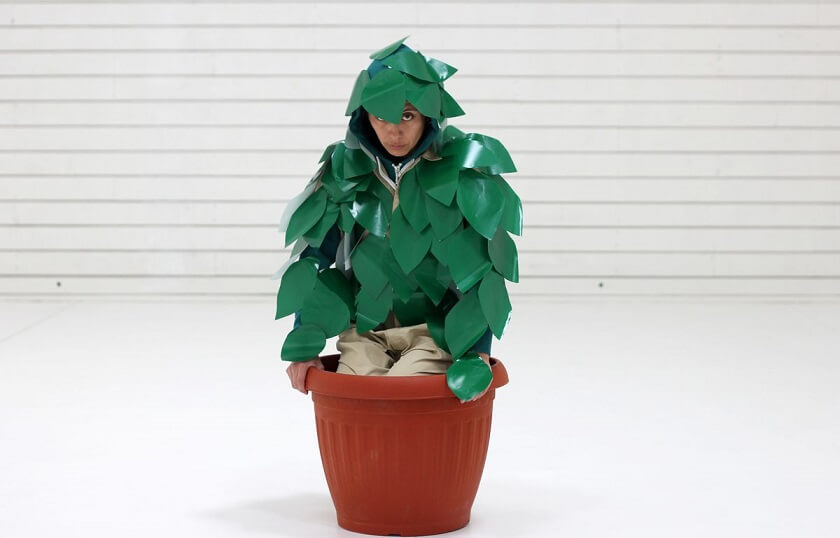 Show Information
Estado Vegetal (vegetable state) is the latest genre- bending work by writer-director Manuela Infante—her first "vegetable play, not an animal play" that tests the limits of anthropocentrism, which has been her prime artistic interest for ten years.
Created with an all-woman team, the play uses Infante's sublime sense for comedy and theater in service of philosophical concepts about plant intelligence and vegetative soul. The individual stories of Estado Vegetal branch out from a collision with a tree and proceed to imagine a scenario in which plants decide to reclaim their kingdom.
Experimental performer Marcela Salinas (shown here) plays all of the characters by recording and building on her voice with live looping. Infante, who is also a musician, designed and operates the sound. Rocio Hernandez's dynamic, expressive stage design renders the plants onstage effectively as coactors rather than mere props, establishing an undeniable network of similarities between humans and plants.
THIS PERFORMANCE IS PRESENTED IN SPANISH WITH ENGLISH SUPERTITLES.
Buy Tickets
When would you like to attend this show?
Thursday, May 9

7:30pm

$15

---

Friday, May 10

7:30pm

$15

---

Saturday, May 11

7:30pm

$15

---

Sunday, May 12

2:00pm

$15