Laser Comedy Show
Laser Comedy Show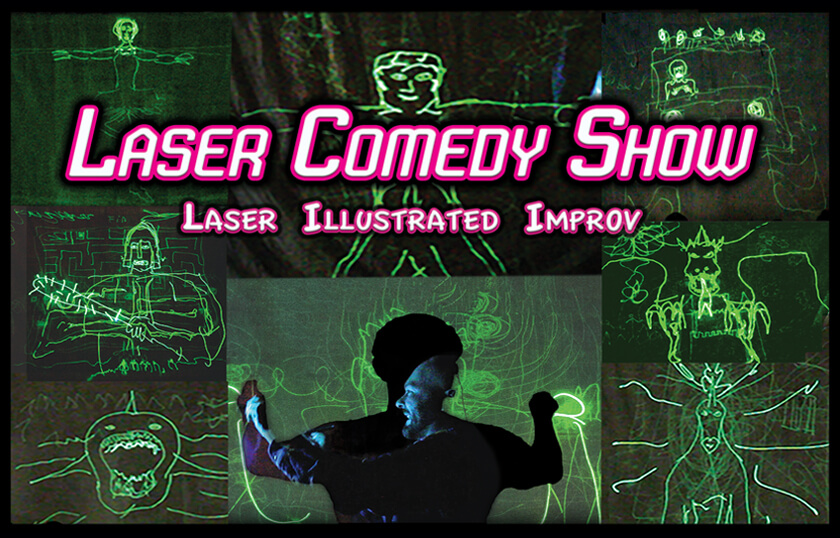 Show Information
It's a live drawn comic book/puppet show with lasers! Performance artist Chris Fair combines his talents of art and long-form improv to passionately construct an exhilarating and gut-busting experience. From behind a special light-reactive screen, Fair holds laser pens in both hands like pencils to illustrate audience suggestions into an improvised story. His art comes to life as he voice-acts all of his characters and sounds. Come see a variety of acts from stand up and improv to musical comedy perform headlined by the one and only Laser Comedy Show.
Chris's journey to perform The Laser Comedy Show has been a lucky process: He's overcome a speech impediment and fear of public speaking. He's been a talented artist since childhood, which was rare for speech-impaired children. He became ambidextrous when his parents made him switch from left to right-handed as a child. He performed five years of stand-up comedy and – when the recession laid him off – he followed his heart in pursuing improv comedy. Most importantly, after being introduced to laser-reactive technology, he was driven to make it into a comedy show that he's now performed at 40 comedy festivals and six self-organized tours throughout the U.S. and Europe.
Buy Tickets
When would you like to attend this show?
Tuesday, Nov 5

8:00pm

$11.25

---

Tuesday, Nov 12

8:00pm

$11.25

---

Tuesday, Nov 19

8:00pm

$11.25

---

Tuesday, Nov 26

8:00pm

$11.25