Drunk Shakespeare
Drunk Shakespeare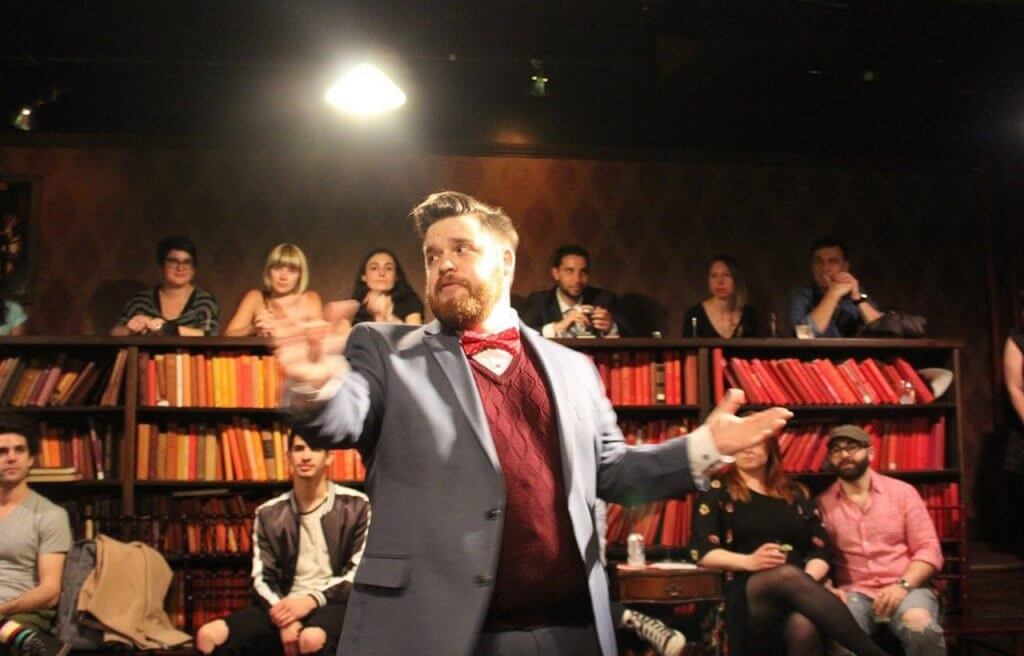 Show Information
One professional actor downs 5 shots of whiskey and then attempts to perform…in a Shakespearean play. Hilarity and mayhem ensues while the four sober actors try and keep the script on track. Every show is different depending on who is drinking…and what they're drinking! The stage is set in a hidden speakeasy located behind the Chicago Theater. Guests enter through a locksmith's shop to find a glam cocktail bar and library with over 10,000 books. Craft cocktails are available throughout the show.
DAY DRUNK SHAKESPEARE: Because nothing says summer in Chicago like day-drinking and theatre, Drunk Shakespeare is excited to launch new "Boozy Brunch" matinees. Audiences can kick back with mimosas, Irish coffees, and pastries while one of our classically-trained actors downs 5 shots to test the limits of Shakespeare.  With a variety of showtimes available at half-price (listed below), there's a brunch show to fit every schedule (and every hangover).
Running time is 90 minutes with no interval. Drunk Shakespeare is on a limited run so get your tickets today! Entry is strictly 21+.
Buy Tickets
When would you like to attend this show?
Wednesday, Oct 23

8:00pm

$19.50 - $39.50

---

Thursday, Oct 24

7:30pm

$19.50 - $39.50

---

Friday, Oct 25

8:00pm

$19.50 - $39.50

10:00pm

$19.50 - $39.50

---

Saturday, Oct 26

6:00pm

$19.50 - $39.50

8:00pm

$19.50 - $39.50

---

Sunday, Oct 27

2:00pm

$19.50 - $39.50

---

Wednesday, Oct 30

8:00pm

$19.50 - $39.50

---

Thursday, Oct 31

7:30pm

$19.50 - $39.50

---

Friday, Nov 1

8:00pm

$19.50 - $39.50

---

Saturday, Nov 2

6:00pm

$19.50 - $39.50

8:00pm

$19.50 - $39.50

---

Sunday, Nov 3

2:00pm

$19.50 - $39.50

---

Wednesday, Nov 6

8:00pm

$19.50 - $39.50

---

Thursday, Nov 7

7:30pm

$19.50 - $39.50

---

Friday, Nov 8

8:00pm

$19.50 - $39.50

---

Saturday, Nov 9

6:00pm

$19.50 - $39.50

8:00pm

$19.50 - $39.50

---

Sunday, Nov 10

2:00pm

$19.50 - $39.50

---

Wednesday, Nov 13

8:00pm

$19.50 - $39.50

---

Thursday, Nov 14

7:30pm

$19.50 - $39.50

---

Friday, Nov 15

8:00pm

$19.50 - $39.50

---

Saturday, Nov 16

6:00pm

$19.50 - $39.50

8:00pm

$19.50 - $39.50

---

Sunday, Nov 17

2:00pm

$19.50 - $39.50

---

Wednesday, Nov 20

8:00pm

$19.50 - $39.50

---

Thursday, Nov 21

7:30pm

$19.50 - $39.50

---

Friday, Nov 22

8:00pm

$19.50 - $39.50

---

Saturday, Nov 23

6:00pm

$19.50 - $39.50

8:00pm

$19.50 - $39.50

---

Sunday, Nov 24

2:00pm

$19.50 - $39.50

---

Wednesday, Nov 27

8:00pm

$19.50 - $39.50

---

Friday, Nov 29

8:00pm

$19.50 - $39.50

---

Saturday, Nov 30

8:00pm

$19.50 - $39.50